1/2/05 UPDATE:   Happy New Year!  It is now 2005 and I have some unfinished business to deal with.  A dealer couldn't diagnose why my ABS light is on because they don't have a certain adapter to hook the car up to their computers.  Sounds a bit stupid to me, but even so, I have to bring the car back when they get the adapter.  Until then, I have no ABS or traction control.  I don't mind no TC, but in the winter, I like the ABS. 

More unfinished business involves getting rid of Todd's 1960 Humber Super Snipe and Stingray boat, and my brother's '87 Camaro.  Not to mention my being smitten by the 2005 Mustang.  I was hoping Santa would put one under the tree this Christmas, but alas, Santa couldn't get financed.  I guess he has bad credit from not paying his sleigh payments on time...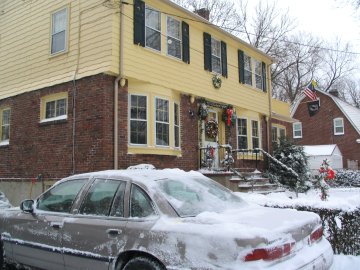 Aftermath of 12/26/04 snow storm, about 7", more in others

3/2705 UPDATE:   It is offically spring, but mostly in name.  Can't wait to turn the clocks ahead next week! 

The dealer mentioned above never called me back about my ABS light issue.  I wasn't too thrilled about it.  Two trips to a different dealer later, and the car's fine again.  Turns out I had some corrosion in a wiring harness behind the front bumper.  Go figure...

Remember my bad gas nightmare from 2001?  Well, much to my dismay, my insurance company couldn't get Taxaco to settle, so I had to go to court earlier this month.  I will be going again this week.  I have to miss work for nothing, as I was already paid on the claim, and don't really care about getting my deductible back.  I am not good in certain social situations, and this is one of them.  One thing I will say, though, is that Texaco's lawyer nows SQUAT about cars OR gas.  Her "expert witness" looked like an absolute fool when cross examined.  It is all a joke, and I can see why so many people get off or punished wrongly.  It isn't an open discussion of the facts.  You say YES or NO and can't depend yourself properly.  You can't add anything usefull at all!  I don't like it...

My brother has said BYE to his '97 Camaro Z28 and bought a new 2004 Dodge Dakota.  The Camaro blew a plug twice, and the whole thing made him want the car out of his life as soon as possible.  Now he can drive in snow and his back doesn't hurt.  I am not a Chrysler fan, but as long as he is happy...

The Javelin should be on the road soon.  Looking foward to car shows!

4/1/05 UPDATE:   Vic is giving me trouble lately!  Long story short, I had a bad Wednesday.  Not only did I have to miss work to go back to court for the Texaco issue, but when I got there just in the nick of time, I found out it was cancelled!  So now I figure I can relax and go watch trains.  After 45 minutes of driving around Quincy trying to find the highway and getting rather upset, Vic overheats just as I pass a Buick dealership.  One AAA tow later, my day is wrecked.  Just got the car back tonight, and once again I am in debt with my mechanic. 

5/14/05 UPDATE:   Guess what?  I had to drive to Quincy Court a third time.  Guess what?  The cooling fan stopped working and I had to get towed AGAIN.  I was so upset I didn't even testify.  Word is the lawyer gave my mechanic a hard time on the stand, and the judge was far from impartial.  The whole thing is a joke and I still say the judicial system is a joke.  Rapists go free but they want to hang someone who claims Texaco sold bad gas.  Go figure...

Anyhoo, this time the trouble was linked to a bad wire at a connector.  I hope this is the last time this happens.  Three times in one year, twice in one month... I have had it.  At least I finally got my snow tires off!  Looking like I will need a new set of summer tires next year.  Not sure why I go through tires so much! 

Todd's '99 P71 is in the shop.  The rear end needs work.  Or at least that is what we think.  We will find out soon enough! 

I have been thinking of replacing Vic in the next year or two.  But I think I have finally gotten so attached to it, I don't want to get rid of it.  Also, while there are quite a few used '04 and '05 Vics for sale locally, they are all ex-rentals and not equipped the way I want.  No handling package and they all have leather.  If I were to buy one of these, I'd need to install a dual exhaust, new shocks, new sway bars, new stereo, and suffer with leather seats, which I find too slippery for someone my size.  When I take a turn at speed, I don't want to slide around! 

My only other options would be a Marauder (can I live with black paint??) or a new Mustang.  Thing is, while I could efford a V6 Stang, I don't know if I could live with the stigma the V6 has.  I mean, those are often thought of as either a "poor man's muscle car", or a real "chick" car.  The GT is what I'd really want.  And not loaded, either.  Cloth, auto, base Bullitt rims, no rear spoiler, silver with gray interior.  A color would be nice, but could I stand seeing scratches?  And bolder colors draw the eyes of police. 

And what about space?  Smaller trunk, no auto-leveling rear suspension for mulch hauls, no real back seat...  Could I live with a coupe?  Questions, questions...

Oh, wait... I can't efford the GT... so forget that idea...

(insert sad face here)

5/27/05 UPDATE:   It has been raining here in MA for about a month now.  Very depressing.  I managed to finally get my Spring Clean done to Vic, but I only got to enjoy it for one day.  Hasn't stopped raining since.  Need to do an oil change BAAAAAD, but again, RAIN.  The Javelin needs work, but again, RAIN. 

6/6/05 UPDATE:   Vic has a new windshield, courtesy Route 2 in Lexington MA.  I could see it.  A rock, flying through the air, heading for my windshield.  Then BANG!!   I suddenly had a nice chip in front of me.  I got to work, made a phone call, and by the end of the day, the felluh who put my last windshield in a couple of years ago had done it again.  The good thing is the glass was all pitted already, so by accident that problem was solved!

8/21/05 UPDATE:   Today is the last day of my week-long vacation.  Went up to Maine with Todd and his parents, saw some trains and went out on his boat a little.  I am not all that good with water, mostly because I can't swim.  Todd's P71 did well towing the boat 3 hours at speed.  But once he got home, well... Read on.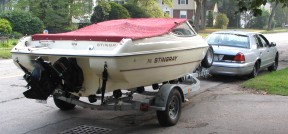 More fun on the Vic front.  Had to have some wiring hacked apart and replaced due to cooling fan still cutting out.  Last week we had to replace my alternator AGAIN because it was over charging.  Kept tripping things so that the A/C, turn signals, digital dash, etc wouldn't work.  Turned out the lead wir on the top of the alterntor was so toasty hot, it could have caused a fire.  So Todd replaced the unit for me.  Part was about $175.  About a month ago, the car was riding so badly I brought it to my mechanic, who promptly replaced some ball joints.  Right now, Todd's '99 is in the shop because it was accelerating without touching the gas pedal!  The day before this happened, he changed his spark plugs and thermostat, which he found had broken in half!

While I am going on about repairs, Ma's '95 Town Car has been in the shop non-stop.  Rear air suspension, A/C, engine light... everything.  Has about 110,000 miles on it... may be time for a new car!

Oh, and Todd scraped a rim on his Mustang.  Reminds me of the post here that started this whole running log...

Packed up and ready to go!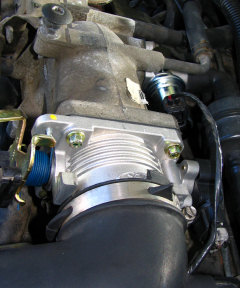 9/18/05 UPDATE:   Last log, Todd's 99 P71 was having some issues.  The car ended up at Clark & White Lincoln Mercury, the dealership that installed my engine.  We were thinking maybe he had an intake issue, possibly causing a vacuum leak.  Turned out he needed a whole new throttle body, idle bypass sensor, etc.  All this at 165,731 miles! 

Some of you may have received something in the mail about a class action suit regarding Ford and their plastic intake manifolds.  I have to admit, I don't know the whole story, as I just couldn't make myself read the whole thing.  But if you have had to replace your intake in the past, you may want to look into this.

Road & Track magazine says that the 2006 Crown Vic and Grand Marquis will have a minor facelift.  I sure hope it is a GOOD one, as I will be upset otherwise...

11/12/05 UPDATE:   Vic has turned 69,000 miles old.  (In contrast, Todd's car is 170,000 miles old now, and he's thinking of replacing it.) Today we did a much needed oil change, along with installing a new driver side wiper arm, as the wiper doesn't touch the glass when I drive over 60mph.  I sure hope this switch helps!  The part was only about $18 through work... We also installed (finally!) my new steering wheel.  Todd found one for me at a junk yard that has very little wear on it.  So now instead of flaking leather dye, I have smooth leather on my steering wheel!  What a difference!!  Next up is to get the snow tires on the car.  I seem to have a bad tire that will be replaced next week.  Thing is, the tire that is now bulging out on the sides is the year old tire that itself is a replacement!  I don't have much luck with snow tires, it seems...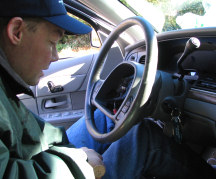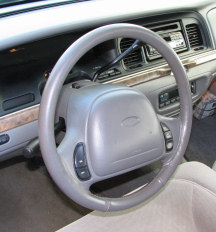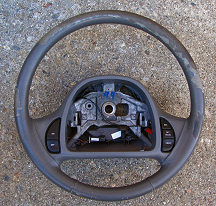 ... old steering wheel...

11/22/05 UPDATE:   Well folks, it's that time of year again.  Sunday we put the snows on Vic.  Took some doing, too.  The tire I replaced a year or two back had a sidewall that was bulging oddly.  We decided I should replace it.  I paid too much for one because I couldn't track one down online.  It appears the Goodyear Ultra Grip Ice is no longer made.  But I did get one, and all 4 were re-balanced at work.  I will hopefully be all set for the winter, but next year I may buy a whole new set of snows.  Maybe the Goodyear GW2 (police equipment).  We shall see, as I will also need a new set of summer tires.  I'd like to stick with the Eagle LS, though the new Eagle GT-HR looks interesting. 

This past Saturday I drove Todd and his parents to an auction in an effort to replace their high-mileage Vics.  After looking at all the cars, we narrowed things down to 3 or 4 vehicles.  The best car was brown, NOT a color anyone wanted.  What we ended up with was a silver 2002 P71 with about 110,000 miles.  It will replace Todd's '99 with 170,000 miles, which will now go to his parents, whose '95 P71 may in turn go to Todd's brother.  Musical Cars! 

Of course, when you buy a car at auction, you never know what you'll get.  We made sure we were there when each car was started, then driven to the auction building.  You can't drive it yourself.  So there is always risk to buying at auction.  Todd's new steed needs a windshield, rear tailight trim, a few small interior bits, and a little front end work.  But he says the car drives a lot nicer than his '99 ever did.  There is a strange sound from under the hood, though.  We still have to figure that one out.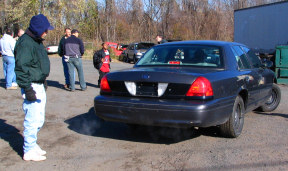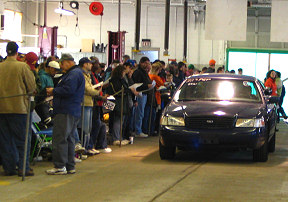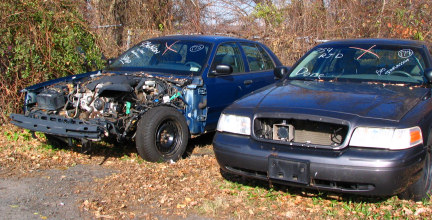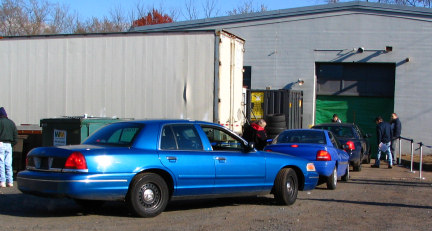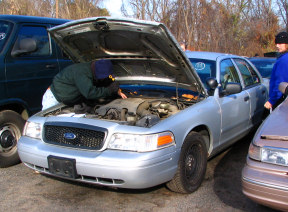 Todd checks out the goods...

Cars line up to enter the auction building.

Todd does the infamous transmission fluid sniff test, and decides this is the car he wants.

Back at the Mystery Mechanic Garage... aka: Todd's driveway.  There's another in the garage...

Now all the electronic goodies from the '99 will have to be transfered to the '02.  Todd's thinking of a different center console for his radios, and needs to decide on his antenna arrangment.  I hope this car treats him better then the '99.  He's never had so many issues with a Vic!

12/10/05 UPDATE:   Yesterday we got hit with a nasty snowstorm, and because of it, I wasn't able to get a perfect photo of Vic turning 70,000 miles.  Sort of hard to keep the camera still while driving in the dark through slush and ice.  But driving home after the storm wasn't that bad, and I topped off the trip with a few donuts at the high school parking lot... of course!  Todd did a temporary fix to an exhaust leak I have acquired.  May have to get all my exhaust gaskets redone soon.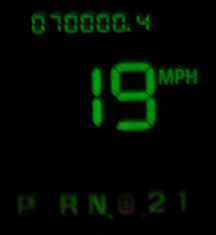 What's Up With Vic?  2005

(Newest LAST)