"THE NECVO MASTERS"

GOLF AT KIMBALL'S FARM

WESTFORD, MA

7/20/02

Hosted by Dave Taylor

A good time was had by all at the "NECVO" Masters mini-golf tournament at Kimball's Farm in Westford, MA.  Kimballs is a well known local ice cream/mini-golf/not-so-mini-golf spot that is usually packed solid with people, and was today was no exception.  Everyone met up about noon and chatted a bit.  There was a decidedly non-Vic look to this meet: The Taylors brought their '65 Vette ragtop, Steve S brought his truck and an ex-PI exhaust for Pete's Marquis, which was replaced for the day by a Ford Ranger with an amusing exhaust of it's own.  Then there were the two Mustangs.  But the NECVO spirit was there.  Rob spent most of his time trying to stop microbes from falling on his car.  A peek into his trunk revealed some of the tools he uses to keep things clean.  Looks a lot like my own trunk....only neater!  Owen Ward, a well known CVNer, was here in MA for a visit in his P71.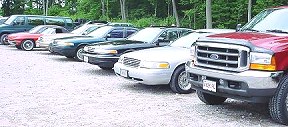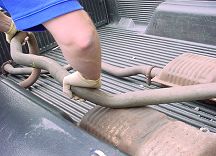 We then walked across the street from the secondary parking lot, just to get to the other side. After consuming some pizza, chicken, and cheese sticks, it was time to begin the tournament.  We broke up into groups of about 4 each for ease of playing, but we were all competeing against each other for the same prize: a case of 5W30 Mobil 1 oil that our host Little Big Dave Taylor donated for the cause (actually, he bought it by accident and needed to get it out of his trunk... but the sentiment WAS there!!)   My group consisted of Dave, Stuntman Jim, Joe, and myself.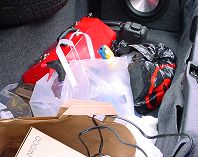 Some of Rob's cleaning tools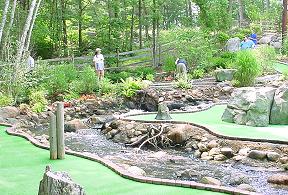 Competition was fierce.  Vicster against Vicster.  Balls were knocked away from holes, shot into the water, and clubs became handicaps and weapons.  A few of us managed some hole-in-ones.  Some manged a few par 15's.  At one point, Jim had an urge to become one with the course.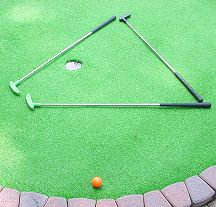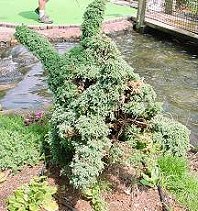 One of the lessor topiaries in an otherwise nice landscape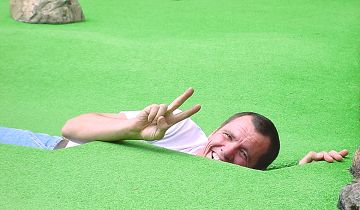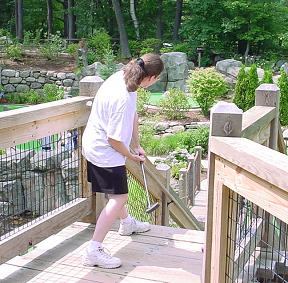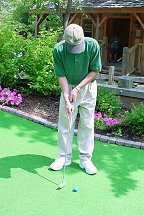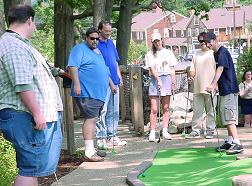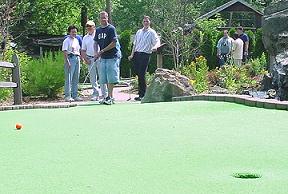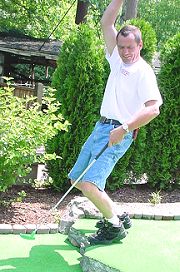 Jim does the Hole-In-One dance

After the dust settled, and the putts tabulated, it was established that the winner to be annointed with oil was Beth, who's husband Pete no doubt stripped her of her winnings once they got in the truck!

Before the gang left for a cruise up to Hampton Beach, a few more incidents occurred, such as Steve's dissapearing water, and Jim's uncooperative cell phone, which he just could not get out of his pocket in time to answer an incoming call.  After much stress and teasing, his last resort was to relocate himself to the relative privacy of the restrooms in order to rectify the situation.  He was later arrested for cell phone abuse.  Lastly, it was Taylor against Taylor when Dave put a rubber glove on the tailpipe of his brother's Mustang.  Stupid me didnt get pictures, but the results were very amusing.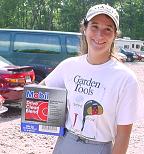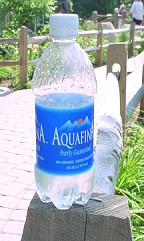 "Will someone watch my water"

Sure Steve.......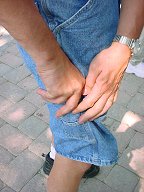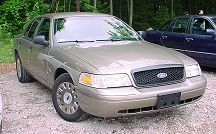 It was nice to have the group do something non-car-related.  The sun came out half way through the day, there were no injuries or mechanical malfunctions, everyone had fun, and overall I'd say the meet was a success.  I didn't go to Hampton later, I'm sure everyone had a nice time, but I enjoyed the Masters.