My Family's Cars!

A nostalgic peek at some of the cars my family has owned and driven through the years...

My uncle Johnny's Corvette.  It seems to have lost some of it's chrome trim. Note the FOR SALE signs in the rear window.  I seem to remember a story about the engine being taken out at some point before he died in Vietnam.

My uncle John's Chevy Impala ragtop.  Needless to say,for a while my mother's family seemed to like Chevrolets!

Another '59 Impala, this one a sedan that belonged to my grandfather. 

This 1975 Chevy Monte Carlo was passed around a bit, finally ending up my father's.  It had swivel cloth bucket seats, floor shifter, and a not so great Bondo-job on the lower front fender. It used to smell like burnt peanuts when Mom drove it, because Dad never drove it very fast. 

This 1975 Chevy Impala station wagon was Mom's chariot for many years.  We would pack over 15 kids into it and head to Canobie Lake Park in NH every Summer.  Every time Mom would go food shopping, the bags would fly all over the cargo area! The disappearing rear hatch/window stopped working right, then got hit by a truck one year, adding insult to injury.  It also had an "alarm system" that didn't work.  You had to use a key and do something on the front fender.  Mom would make like it actually worked.  Memories...

My brother's 1978 Firebird Trans Am.  It was a bit of a lemon, but it LOOKED good! He had it painted at MAACO, so it's no surprise that the car ended up rotting away at our mechanic's lot.  At least that hair is gone...

This was my sister Sue's first car, a crappy Chevy Cavalier. I think it may have been an '83 or '84.  The paint cracked, it overheated, the fuses blew, etc.  It is also the car I got to drive for a month or so after I got my license. (oh, WOW!!!) This was one car we were all glad to see go away!

My sister's 1994 Chevy Cavalier.  She bought it new, which none of us understood at the time (how DID she pay for it?).  This car proved to be much more reliable than anyone ever expected!  At last count, it had at least 120,000 miles. She sold it while her husband was in Iraq, and it was probably not the best idea to do so at the time!

(SOLD 2005)

This 1986 Pontiac Parisienne was another hand-me-down. It went from my uncle to my father, and then became my first car.  It had a goofy fuel injected V6 and strange shifting habits.  It liked to overheat, too.  But it made it through some tough snow storms, and I will always remember that I beat a Mustang with it. The interior was maroon velour, and ultra-comfy.  Despite the dents from when Dad had it, and the typical cracked GM paint, it was always spotless.  One morning, a woman whacked it hard, right on a rear wheel.  I drove it to out mechanic, he installed a new axle, and I drove the car for a few more months!  He said if I was in my sister's Cavalier, I'd have gone to the hospital.  When it finally got junked, our mechanic told me I should take the back seat out and use it for a sofa!  I think it had about 165,000 miles at that point.

So far, this is the only car my parents bought new, a 1987 Cheby Caprice Classic.  We would go from the Boston area to southern Maine  and back, and the gas needle wouldn't even move, even though it was carbureted.  The dealer hit it twice and had to replace a cracked engine block.  But after that, nothing ever went wrong with it.  When the engine was cold you always had to pump the pedal twice, then start it.  It would stall, then you'd crank it again and with a puff of smoke, you were ready to go!  My parents sold it with only 81,000 miles, due to rust issues.

(SOLD IN 2000)

My father bought this 1986 Chevy Caprice Classic from a customer.  It was an LS "Anniversary Edition".  It had the typical cracked GM paint, and a leaky aftermarket sunroof.  It ran fine, but rotted away.  This may very well be the last GM my parents will ever own...

(RETIRED FEBRUARY 2003)

My brother's 1987 Camaro, post-MACCO paint-job, pre-rustout!  He had it painted I think three times... I lost count.  This was a V6 automatic, but you could hear it a mile away due to the Cherry Bomb muffler.  After this Camaro was stolen, we found him a replacement, but then the car was found!  It was kept in storage for a few years, but in 2005 was put back on the road.

(SOLD 2013)

After my Parisienne went to the junkyard, I diverted from family protocol and switched to a Ford product.  This was my 1988 Mercury Grand Marquis LS.  It, too, had a MAACO paint job from it's previous owner.  And, of course, it started to rust.  But it was a rather peppy land yacht.  It had blue velour seats you could sit and watch TV on, but not as nice as the Pontiac's.  I had a Sony stereo installed in place of the AM/FM radio.  The hubcaps were locking, and I lost the key for the bolts.  I "acquired" a new set with key, along with 2 new centercaps, right before I traded it in.  There were always little rattles I could never locate that drove me nuts, but all in all a nice car. But only 150hp from a 5.0 V8??

When Mom's Caprice said goodbye, she ended up with this  1995 Lincoln Town Car in 2000.  Mom had always wanted a Town Car.  I preferred the Caprice as this car had a softer ride.  In 2010 this car became my father's.  Rust and electrical issues made my father decide to retire it in December 2011. 

(As of 2013, it is in the hands of his mechanic)

The Missing Ones

Dad's '78 Impala (another?!)

Dad's Ford LTD

Dad's blue Plymouth that got stolen

Sue's Hyundai she had for a week

On April 6, 2000, I took the plunge into car payments and traded in the Grand Marquis for a 1998 Ford Crown Victoria LX.  This car has the Handling Package, which includes alloy wheels, dual exhaust for 215hp, and an upgraded suspension.  It's silver with gray cloth.  Pretty much loaded, but no leather, which suits me just fine.  No more whitewalls to scrub, but those wheels can be a problem to keep clean.  I can't go into detail about Vic here, so read more on my
CROWN VIC SITE
.
This is the oldest picture I've seen of a family car.  These folks include some of my mother's aunts.  The car appears to be from the 1930's, but one suggestion is that it is a 1927 Chevrolet.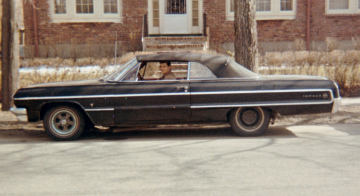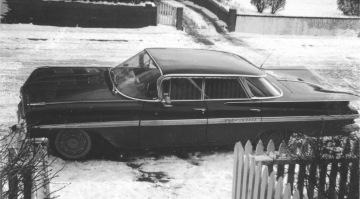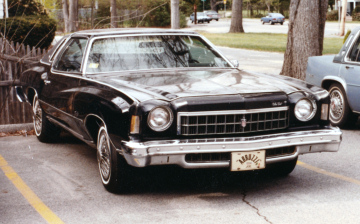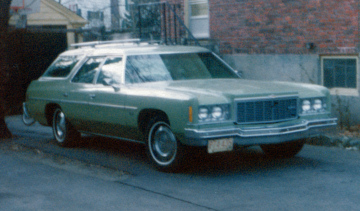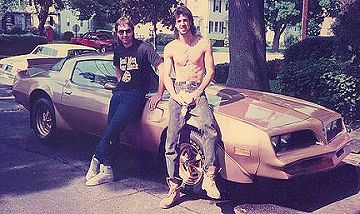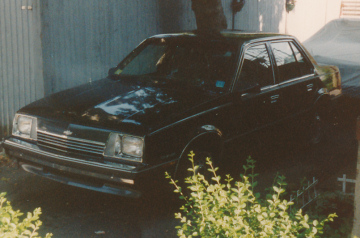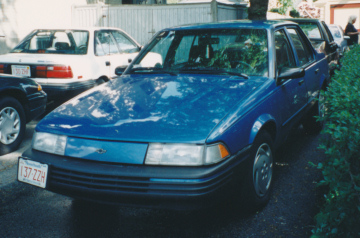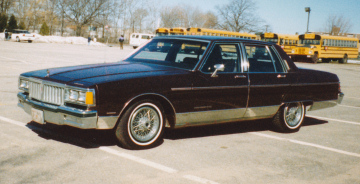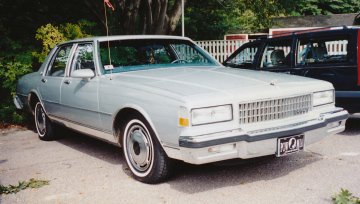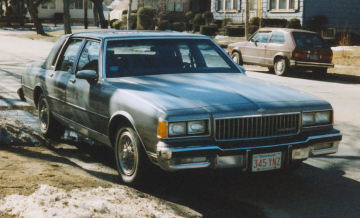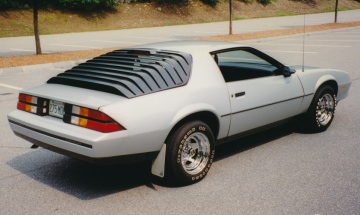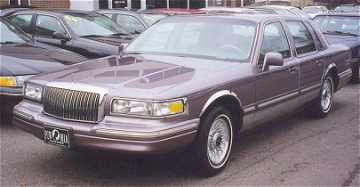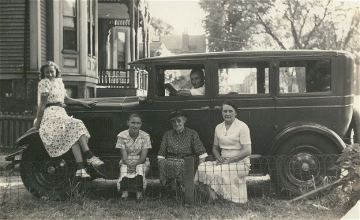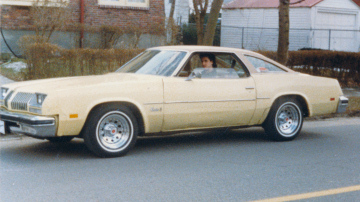 This was my brother Joey's first car, a 1978 Olds Cutlass Supreme.  I don't remember much about it, other than the chassis was all rusty.  I think the rear bumper fell off, which seems to have been a common problem with these cars.  Note the aftermarket chrome wheels!

This page was last updated on: October 4, 2014
After my brother's '87 Camaro was stolen, we found this '97 Z28 30th Anniversary with the 5.7 LT1 engine and about 55k miles. When we got home, the '87 had been found!  Joe added a 2 chamber Flowmaster muffler and Corvette-style exhaust tips.  He started having problems with spark plugs reacting with the aluminum heads, and decided to move on to something else.

(RETIRED 2005)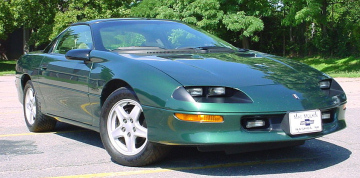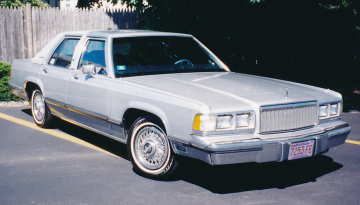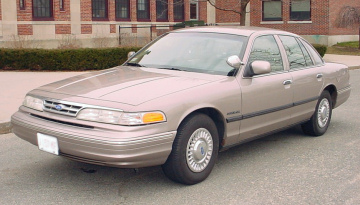 This '95 Ford Crown Victoria Police Interceptor started life as a CT state police cruiser.  My boyfriend bought it at auction, then later sold it to my father in February '03. The color was "Pumice", which also became its nickname.  The spotlight was removed since Dad didn't need it.  Once again, rust ruined the car after it had covered many miles. 

(RETIRED 2009)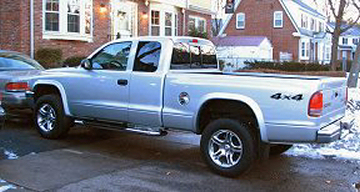 This 2004 Dodge Dakota pickup replaced my brother's '97 Camaro in 2005. This was the first truck in our family.  It looked nice, but eventually turned into a money pit.  There were front end issues and rust was starting to show up here and there.

(TRADED IN ON '07 CHEVY TRUCK)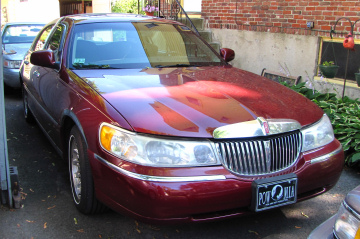 In 2009 my parents bought their mechanic's low mileage 1999 Lincoln Town Car.  Not long after they bought it, it was side-swiped while at it's old owner's lot.  It also has a reoccurring water leak.  It is peppy, but I would toss a set of heavy-duty shocks at it.  I have to confess, this is not my favorite family vehicle...

This is my 1974 AMC Javelin. It is a rather rare version of the car, having come from the factory with a 401 V8 and 727 automatic, in Maxi Blue with a blue interior.  It needs a full restoration, but I have not been able to do a whole lot due to a lack of cash.  If you'd like to know more about it, you can visit it's very own
WEBSITE!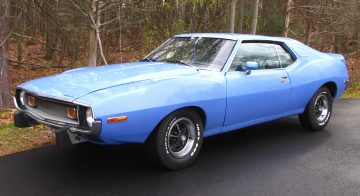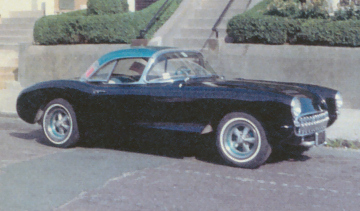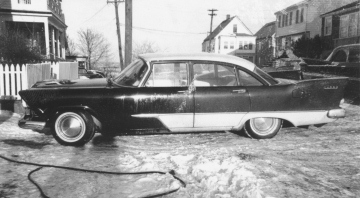 Mom & Dad's '59 Chevy Impala.  It was white with a red interior. I built a model inspired by this photo, which you can see at the
MODEL SITE.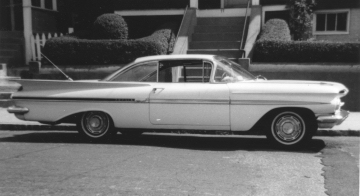 This Chevrolet sedan belonged to my great grandmother.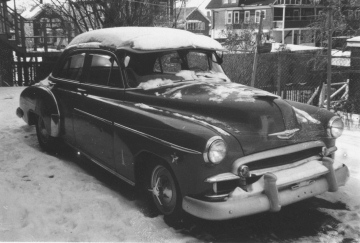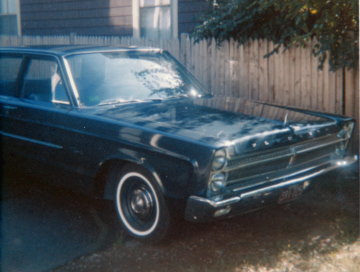 This car belonged to my grandmother.  I am not overly familiar with the cars of this era, and am not sure of the model.  Can anyone help?

This Plymouth belonged to my grandmother.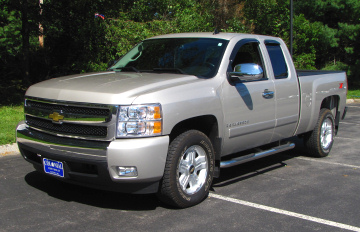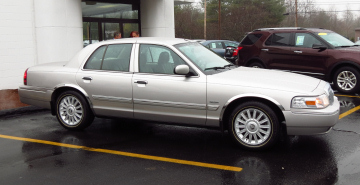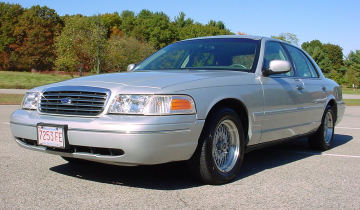 After his Dodge experience, my brother decided to go back to Chevy, and bought this 2007 Silverado Z71 pickup.

(2014 - TRADED IN ON '11 GMC TRUCK)

In 2011, my father actually bought himself a nice car, this 2010 Mercury Grand Marquis.  This is the first time Dad has had the best car in the driveway!

Can you help identify some of the older cars here?