Just what led to this major change?  Well, other than rust issues, Vic's electric gremlins were becoming a real problem.  The horn/panic function was starting to go off all on its own.  I had to resort to disconnecting the battery to make it stop.  Also, the digital speedometer would read "0" sometimes.  If I wiggled the key while driving, it would fix it.  Twice the car totally cut out while on the highway, only to run again a couple of seconds later.  A transmission line was seeping.  It needed front end work.  The ABS light was on.

Oh, and did I mention rust?

But the engine was still strong.  The interior still looked nice.  Air suspension worked great.  Stereo sounded great.  BBS alloys still looked sweet.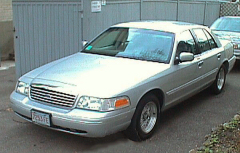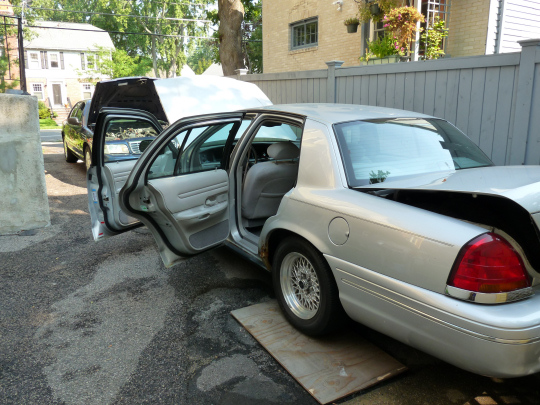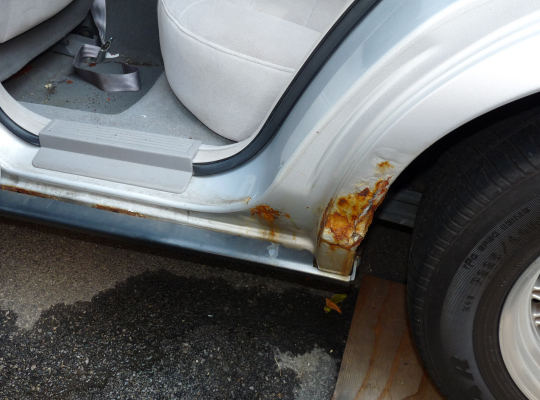 Goodbye, Vic 1.0...

What started on April 6, 2000 ended on July 20, 2015.  On that day, I gained ownership of my boyfriend's 2006 P71 Crown Vic.  Plates were swapped, and suddenly I was driving a blue car instead of a gray one.

Vic 1.0 sat in my driveway, rusting away, for over a month.  I just couldn't let it go.  Eventually, it being in the way became such a pain I finally was ready to let it go.  Our mechanic, aka: Taxi Guy, drove it away on September 1, 2015.  Just it sitting seemed to have caused an exhaust leak!  I took a short video of it leaving me, 4 snow tires in the trunk... The last time I saw it, it had covered 151,152 miles.

Vic 1.0 home for the first time 4/6/00

Moving to a different car has given me mixed feelings.  I prefer the Silver Frost of Vic 1.0.  I don't know if Vic 2.0's Blue Pearl (DX) will drive me into the nuthouse or not.  Already I can see that even when the car is clean, dust makes it look dirty.  Drive through one small puddle, and the lower 1/2 looks dirty.  I miss the digital dash and the "miles to empty" feature.  No more auto climate control.  My Sony stereo is now in a box in the basement.  The good speakers never came out of 1.0. 

2.0's Lear-built seats are not as comfy.  I spent many years in the passenger seat, but I don't know why the driver's seat is so annoying.  Perhaps because Todd had the lumbar pumped all the way up all those years and something happened when I deflated it.  The seats also don't have the rear map pockets, so I have no place to put my atlases. 

I can't pop the trunk unless I have the key turned in the ignition.  I miss 1.0's keypad and remote a LOT.

And now I have HUBCAPS.  I hate hubcaps...

By now you are saying "is there anything you DO like about this change?".  Well, yes.  More horsepower.  Almost no rust, which means some actual paint to wax.  A windshield wiper rack that you can't move by hand.  No stupid traction control button to press every single time I start the car (always drove with it off).  It doesn't have a black interior.  Very useful factory rubber bungee in the trunk. 

Now, don't get the wrong idea.  I appreciate Todd's generosity, letting me have his car.  (He had his own sadness to deal with when he moved into his new car, a 2013 Ford Interceptor sedan.  More on that in the future...)  It's just I have a problem with getting attached to things.  I don't do well with change.  I also am highly annoyed at my inability to get comfortable with 2.0.  I have known the car for years!  But I am STILL fiddling with the seat adjustments and can't STAND the drive by wire.

No doubt, the more I live with Vic 2.0, the better things will get.  Stay tuned...

8/31/15... everything finally cleaned out of 1.0, recent battery put into 2.0.  Of note, Todd's car still had the ORIGINAL BATTERY in it!

Some of the rust that was becoming bothersome...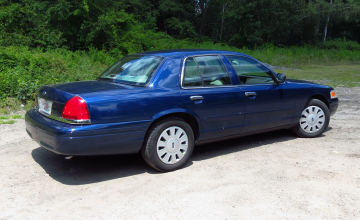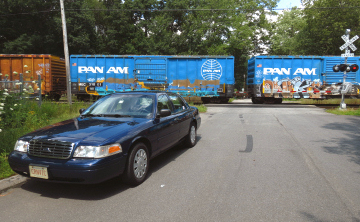 Vic 2.0 out and about on it's first day with my license plates, 7/22/15

Vic 2.0 railfanning, 8/4/15


VIC 1.0: 1998 Crown Victoria LX HPP.  Purchased April 6th 2000 with 23,490 miles - retired July 20, 2015 with 151,152 miles  

VIC 2.0: 2006 Crown Victoria P71.  Acquired July 20, 2015 with 161,584 miles