2/1/2009 UPDATE:   It has been a looooong time since I made any updates to this site, kids.  I have had other interests, and less time due to work.  Now, though, I am part of that growing group of unemployed here in Massachusetts.  All I want to say is DO NOT buy a car from Herb Chambers.  He buys up dealerships and spits out the old employees...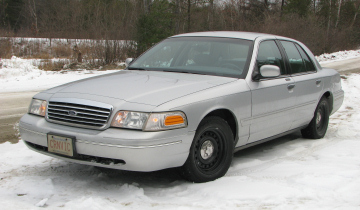 But I digress... Vic has been doing well.  I have my winter wheels and tires on right now.  I got fed up with trying to clean those BBS-style rims!  The rust situation on the passenger side fender is getting worse.  Once things warm up a bit I may have to try and treat it again.  There is now a bubble coming up on the other, recently painted fender.  But it is running great.  I had to replace the front shocks recently, though.  So now I have two police spec shocks up front, and the Bilsteins in back.  When I get working again, I plan to either get a new set of Bilsteins, or possibly Edelbrocks. 

This page was last updated: October 4, 2014
Vic sporting its winter boots...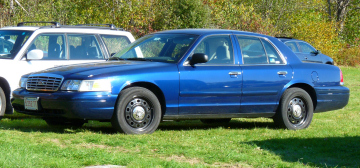 Todd's car has had no problems at all.  We keep piling on the miles.  He is currently running W rated Goodyear Ultra Grips and says they are amazing tires. 

2/17/2009 UPDATE:   Well folks, on 2/2/09, Vic finally hit 100,000 miles.  The event was recorded at Acton MA.  I pulled over just as it changed over.  Much to my dissapointment, there were no bells and whistles, no confetti, no big brass band.  Below is the photo that shows it all... including my current average MPG. 


8/15/2009 UPDATE:   Vic is still chugging along.  Had to replace a loud upper ball joint, and now need an alignment.  Hope to get that done soon.  Also, the DOOR AJAR light is on again.  I can't remember how we fixed that last time.  Had a body shop glance at my rust situation.  Of course, he said "drive it for another year or two".  Then I explained how hard it would be for me to replace the car with something "just right".  The two front fenders could be replaced simply enough.  I need to start thinking about if Vic will have to be replaced, or repaired.  Need a job first...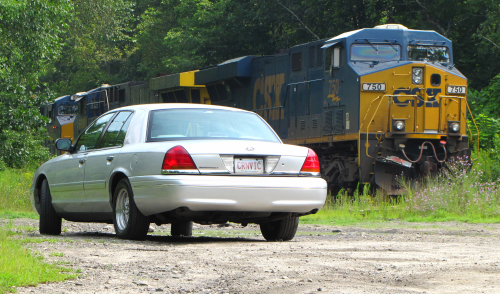 10/21/2009 UPDATE:   Got an alignment a couple of weeks ago.  Not totally happy with it.  Seems I have to always fight the wheel, nudging it to the left.  I want to bring it back, but I am sure I will here "it's your tires" or "it's an old car", or better yet, "you need new parts".  We'll see how long it takes for me to just get too fed up and bring it back... The DOOR AJAR light is still on.  I've had all the door panels off, with nothing obvious wrong.  Todd slammed a rear door and the thing went off, but what does THAT mean??  I think I will have to bring it to the dealer as once it gets darker out, I will be driving with the footwell lights in my eyes!!  Oh, and the TRACTION CONTROL light blew out the other day.  Since I shut the switch off every time I start the car, I am suprised it lasted as long as it did!

In August my wiper motor quit.  I decided to save money and install it myself.  THAT was a mistake... What a pain!  So many screws and grommits!  And to make things worse, I got a new aftermarket motor instead of the rebuilt Ford motor.  It didn't fit perfectly.  The foam gasket on the thing is so dense, I had to borrow my mother's foot to get the thing attached to its mount!  It works, but sometimes I notice the wipers don't "park" perfectly.  At least if I need to, I will know how to do the job a little quicker if it quits again... If it wasn't for my trusty 1998 Ford Service CD, I would STILL be out there working on it!!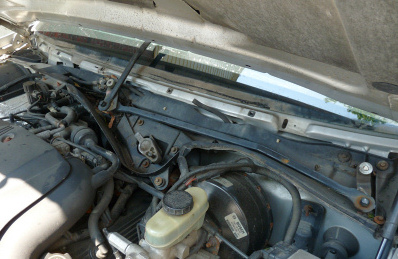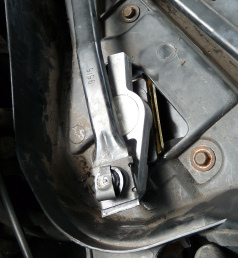 Installed... what a hassle!!


What's Up With Vic?  2009

(Newest LAST)

12/22/2009 UPDATE:   I painted Vic's winter wheels as they were already starting to rust.  I did a little sanding and sprayed a bunch of coats of Rustoleum Satin Black paint.  After we put them on the car, I found that one tire was going flat.  Since I was there anyway, I had Sears check the tire.  They didn't find anything stuck in it, so they remounted it.  So far, so good.  But the recent snow storm we had is already effecting my fragile rusty fenders.  Dagnabbit...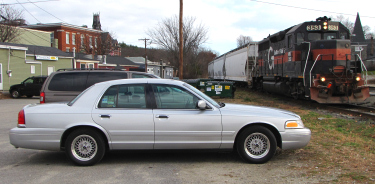 Vic enjoying its summer wheels for the last time...

I have now been unemployed for a year.  In that time I have put quite a lot of miles on Vic.  To keep me occupied, I take little railfan trips a few times a week.  Working on a railroad appeals to me to a degree.  But all I ever read about is how hard a job it is, and how you spend so much time away from home.  And of course, it is a "man's" job.  But I am facinated by the big locomotives and how the trackage works.  Oh well... I guess I just have to keep it all a hobby...