1/8/06 UPDATE:   Wellp, it's 2006 folks, and Vic is over 71,000 miles old.  Doesn't sound like much to most of you, I'm sure, but for me it means I have owned this car longer than my last two combined and put the most miles on.  What will the year bring me and Vic?  A new set of summer tires, and hopefully nothing else!  I never got to do my Fall Waxing, so I think the first deep spring clean will be pretty intensive.  There is a new scratch on the roof I think came from snow removal.  I don't like anyone touching my car for that reason.  I don't take well to new blemishes...  Todd's new P71 has not been driven much due to illness, but he did buy some new speakers and an amp, as the car now only has 2 front speakers and a stock AM/FM radio.  He has to decide what to use for the replacement radio.  In the meantime, his old '99 is sitting dead as a doornail in the garage.  Things are moving slow on the Todd Garage front... 


2/9/06 UPDATE:   Not much to report, folks.  Been doing a lot on my own lately due to Todd's not feeling well again.  To the right you can see Vic in West Chelmsford watching a freight train.  Todd did feel well enough this week to buy ANOTHER vehicle.  No, not a Crown Vic, but a 1987 GMC 2500 pickup.  He has wanted a no-frills truck for a while now.  It is half blue, half black... thanks to a replaced bed!  Has some rust that needs attending to.  There hasn't been a GM around here for about a year now!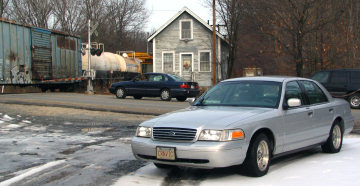 4/9/06 UPDATE:   Vic turned 74,000 last week.  That means I have actually put over 50,000 miles onto a car!  I KNEW it was a good decision to buy it!  I decided to treat it to a few new parts.  There is a new set of 4 new Goodyear Eagle LS tires mounted on my summer rims, a set of 4 new wheel center caps, all new lugnuts, and that radiator shield thing you see when you open the hood.  Mine got melted by my mechanic's soldering iron.  Seems odd to buy parts for Vic.  Parts for my Javelin, yeah it is missing a lot of them.  But Vic is "new".

Todd and I went to the auction again to see if he could replace his '02 already.  He narrowed things down to 3 or 4 cars.  But cars were going for too much money, and the brown P71 he settled on went for more cash than he had in his pocket.  In a way, I was glad.  I feel comfy in gray cars with gray interiors.  Brown inside and out makes me nervous. Always has!  Odd, I know

6/22/06 UPDATE:   There has been a shift of cars down at the Mystery Mechanic homestead.  Todd's '99 is still with his parents.  But the '02 has been sold to a co-worker who already has a Grand Marquis with tons of miles.  So far, he is enjoying it.  Todd had to have some timing chain work done on it, which shocked the dealership who did the job.  They were impressed that Todd even suggested it needed the work, but even more shocked it needed it at all.  They told him they NEVER need to do timing chain work on Vics and Marquis! 

The '02 did have one ouchy in it's short stay with us.  While out by the Hoosac Tunnel in western MA, we managed to get a large stick poked right through the rear bumper!  Didn't even know it until we got out to catch a freight train.  Needless to say, Todd wasn't happy.  You couldn't get it to happen again if you tried!

Todd replaced the '02 with a 2003 P71 he bought at auction.  He liked the other one, but was able to make back his money and step up to the new suspension.  He likes the car alot.  But there is a hitch: it is brown.  No, not tan... not even PUMICE.  It's a sort of Hershey-Pooey brown metallic.  The color I was so glad he didn't get... he got... when I wasn't looking!  We both are getting used to it.  We don't like the newer non-deep-dish steel wheels, so Todd is trying out full wheel covers.  I like the stark black look better, but they make those wheels look more "snazzy" I guess.

Photos to come... if it ever stops raining here in MA...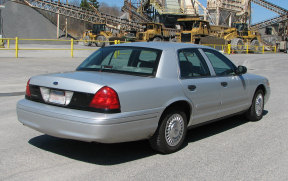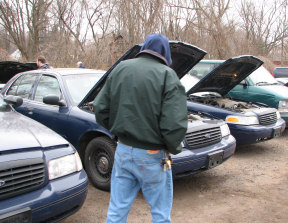 The Phantom Vic Buyer inspects the goods

We got to see some new 2006 Grand Marquis recently.  I'm not fond of the new nose treatment's bulby headlights.  The rear is OK, with the red reflector trim now a smoked gray.  We also spotted an '06 Vic HPP.  They got rid of that stupid external antenna!  New HPP wheels, too.  It was the perfect car for me, only with leather.  Sure wish I had the money.  Still want a Mustang, but the smart side of me says "drive your car until it falls apart and save your money".  So that is what I am doing for now. 

Here's an aside for you.  I had to drive Todd's '02 last week.  He was driving his new '87 GMC 2500 pickup out to storage, and I had to follow him.  I know his car has more horsepower than mine, but in a way it didn't feel like it.  Power and pep are in different spots between the two cars.  At speed, my car feels like it is working more, which is due to less HP, but if I need to pass or downshift for speed, my car pulls more.  Todd's theory is that while I have less horsepower, I have more torque.  Makes sense, but I thought we had the same rear-end gears.  Wouldn't that be a factor?  Also, the difference in suspension is interesting.  I like how the air rear handles, but I also like some points of the traditional one.  But the regular springs make the car feel a bit "baby carriage" in certain instances.  Todd's car doesn't feel like the front end is falling apart on bumps mine does.  I thank Massachusetts and the Town of Belmont for that.  No one knows how to do road work here.  I guess you need a PHD to fill in a pothole

So there we go.  Nothing else to report for now.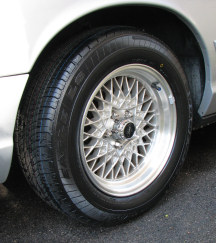 8/18/06 UPDATE:   Well folks, I have photos of Todd's chocolate car to show you, but they aren't very happy ones.  A few weeks ago, out of nowhere, extreme rain caused a flash flood at Todd's house... right after he put the car on jack stands and took the drive shaft off.  The result of all the water?  Wet headlights, wet carpets, ABS lights on, replaced pulleys, alternator, a/c parts, etc.  Water got into the transmission via the tailshaft thanks to the driveshaft being off.  Oil and transmission fluid were everywhere.  His old '99 was in deeper water, but seemed to have fared slightly better.  The Mustang got a little wet in the back, but thankfully things seem dry now and don't smell.  The chocolate car, though, stinks and is STILL damp under the carpets!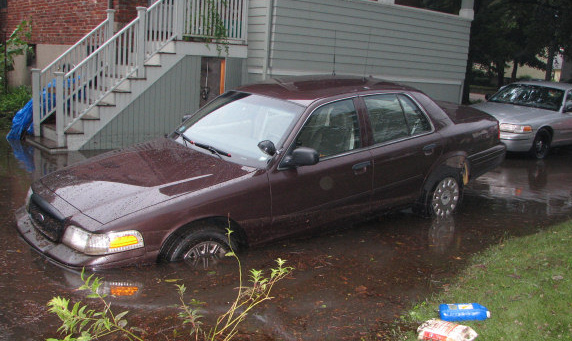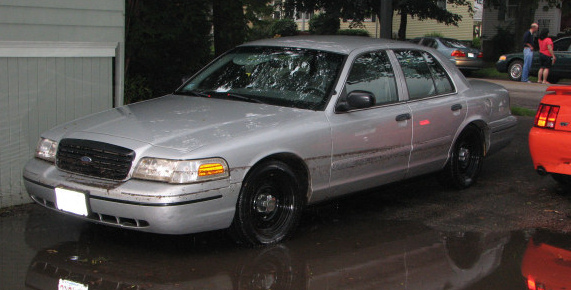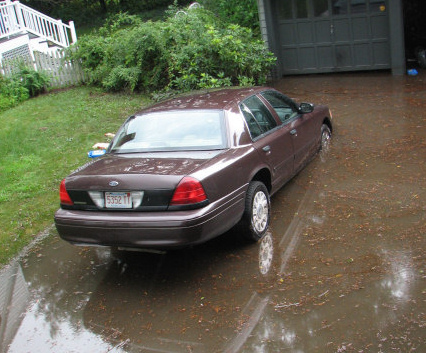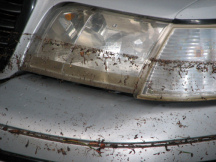 Todd's car nose first in the goo.  the rear end is on jack stands.  Note the water line...

Todd drove his parent's '99 out of the water, which to me was risky, but it worked.  You can really see where the water line was on this car.  The Mustang fared much better...

Todd had the transmission flushed and stuff a few times, and he still things there could be water in it.  But both cars have been taken up to Maine lately and nothing bad has happened so far. 

Now, if we can just get rid of that smell...  

Inside the garage is the '74 AMC Javelin AMX... Todd's baby... and a very wet one at the time!  The seats in that car are still damp!!!

10/24/06 UPDATE:   Not much to report, folks.  Other than Ford is in big trouble and many dealerships will be closing.  I blame it on the people who INSIST on buying Japanese cars.  But that is a topic that would fill this page, so for now I will refrain from letting loose. 

Todd's cars are dry now, and don't smell anymore.  But the Vic transmission is starting to act up again, so it will go in for another fluid change and see if that fixes things again.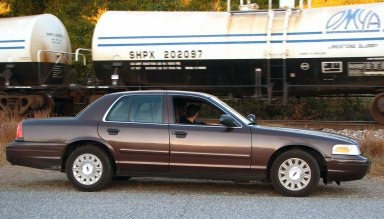 The chocolate Vic railfanning in Brattleboro VT

11/11/06 UPDATE:   Todd's "BROWN" has a new-used transmission.  The old one was starting to really act up.  He's only driven it a few times with the replacement, and each day it behaves differently.  We should be going for a ride today, so wish us luck!! 

My car, which has been behaving, suddenly gave me grief while driving home from a railroad auction in NH.  It was a wet, windy day, but the ride went rather well.  Then, about 5 miles from home on Rt2, I started to hear something loud.  I thought it was the truck in front of me... until I realized the sound was in synch with my gas pedal.  One of my exhaust gaskets finally gave out on me.  We had been keeping an ear on them for a few months.  Sure was loud...

Thankfully, I had already bought two gaskets for when this happened.  Todd jacked up the car, whacked on a few things, found some hardware, and now I'm quiet again.  But the other side will have to be done at some point as well. 

I finally remembered to get one of my snowtires patched for this winter.  There was a 3/4 inch shard of metal in it.  The front tires are more worn than I expected, but I really don't want to buy a whole new set this year.  We'll see how things go...  The only other complaint I have right now is my emergency brake isn't working... AGAIN!  I have had it "fixed" by dealers at least twice.  Tells you something, doesn't it?  :-(


What's Up With Vic?  2006

(Newest LAST)