1/18/04 UPDATE:
  I know, I know... I am waaay behind withdates.  What can I say?  I just haven't had the time!  But I am sitting here now, with snow falling outside, typing away.  A good chunk of my weekend time has been devoted to taking long rides with Todd out to East Deerfield to watch the trains at the freight yard there.  He's guilty of getting me into a new hobby.  Like I need another one!!!  Anyhoo, we go and watch trains, I read train books and post my choo photos on NERail.org.  It's a lot of fun!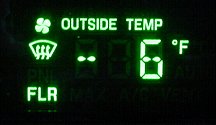 But getting back to cars, Vic wasn't happy the other day.  New England has been hit with some nasty cold weather lately.  The lowest temp I've ever seen on my climate control display is now -6!  Add in wind chill and you know how cold its been.  One night, the low oil pressure light went on because the car had been parked uphill all day!  Also, one of the custom side blinkers is caputski.  Yup, it is either the bulb or the actual socket that is bad.  Can't do much about it until the weather warms up a bit.  But you KNOW it bothers me...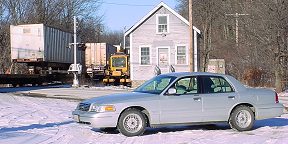 Vic and freight train at West Chelmsford, MA


2/22/04 UPDATE:   Turned out I needed a new marker-light bulb.  Once I changed the offending one, I was all set.  I ended up changing both for good measure. 

It is still winter, and I am rather sick of it.  Yesterday was about 40 degrees, BUT misty and icky out.  I started the Javelin, which is in the back yard, and let it run a bit.  The cold doesn't seem to have effected the battery much!  Then again, there are no real computers in the car, and the clock doesn't work, so there isn't any real draw on the battery while the car sits.

I realized earlier today that I have neglected to show you all the new car in Mystery Mechanic's life.  Back in the fall, we started to drive out to East Deerfield MA to watch trains at the Guilford freight yard there.  On the way, Todd spotted an orange Mustang at a car dealership.  Every time we'd drive out there, he'd want to stop and look at the car.  This confused me a bit as Todd is an AMC man, and always knocks Mustangs.  "BUT," he would say, "this one is orange".  For more weeks, all I would hear is a weak murmer of "Orange" from him.  Finally, after much thinking and loss of sleep, he bought the car.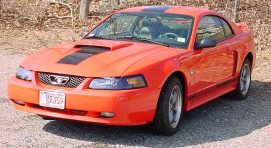 It is a 2004 "40th Anniversary" Mustang GT in low-production Competition Orange with black interior, Bullit rims,manual transmission, and custom orange and black fuzzy dice courtesy of Santa (aka: Me).  At first, I didn't like the car because I felt Todd had "sold out" and bought a normal car.  But now I like it.  So does he.  He's already raced a few people in it (and won) and says it is a real nice car to drive.  It was damaged with under 2000 miles on it thanks to a crappy construction trailer on the highway.  Something flew off the trailer and slammed onto the 'Stang.  It has been repaired, and looks just about the same it did before.


SO now Todd has an '04 Mustang GT, '99 Crown Vic P71, '79 Jeep CJ5, '74 AMC Javelin AMX, '73 AMC Javelin AMX, two trailers and a boat.  That's a lot of insurance!!  Anyhoo, I am now able to take a "pony car" photo, as you can see on the right.  That's my brother's Camaro...

7/25/04 UPDATE:   Long time no type.  I have finally upgraded to DSL and am enjoying "real Internet"... though I still have to get used to Outlook e-mail. 

As I type, Vic is sitting at my mechanic's shop. Last week, the windshield wiper motor finally quit.  The car had been sitting a week while I was driving the Javelin.  Right after that was fixed, the steering got all messed up.  Verdict?  Inner and outer tie-rod ends and a new steering box.  Just ducky...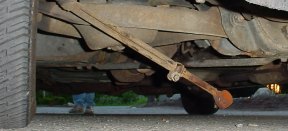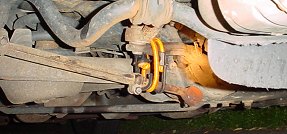 But what is even worse, Todd's 1999 P71 broke a brand new tie-rod end a month ago.  We were in Littleton MA, and had to drive all the way to Belmont with a bungie holding things together.  At one point, we had to stop on Rt 2 in the dark, jack up the front end, point the tires in the proper direction, then continue on in the breakdown lane, hazzard lights flashing all the way.  Took a while, but we made it!

Now, I have been driving that car while mine was out of service.  I noticed it was driving funny.  We went out to eat the other night, and guess what?  YUP.  After a quick check, he has something ELSE loose in HIS front end!!  I blame it on the horrible roads here in Belmont, though my mechanic says this isn't all that unusual...

So tomorrow, without a back-up vehicle to drive to work, I will be dropped off my my mother and picked up by my brother.  It should be interesting, as the DNC is in town.  Some of you may be aware of the impending mess this coming week.  Major roads closed to cater to spoiled Democrats.  Boston businesses hurt, not helped, by the Convention.  Please... I won't vent my political fustrations just yet.  I just hope with the road shut-downs, I can get to AND from work intact!!

I shall change subjects in order to cool down.  Todd is loving his Mustang.  We both entered our Javelins at the Museum of Transportation's American Muscle Day.  He won an award!  The next day we attended the annual Codman House car show in Lincoln MA.  LOTS of cars, and very hot and muggy.  But worth it!

9/26/04 UPDATE:   Not much to say other than defective steering box replaced, new steering pump, fix non-working electric fan (which resulted in an overheat & tow).  Oh, and bills to match.  Not too happy right now.  That new Mustang suuuure looks tempting... Saw the new Ford 500.  HUGE side mirrors!  Not that bad looking, but it was white.  Rear looks too Japanese, but what doesn't these days?  Todd still enjoying his Mustang GT.  Rebuilt engine installed into his AMX. 

10/18/04 UPDATE:   Bad luck with cops lately.  Don't want to go into it... :-(  Vic's been driving well, but is in severe need of an oil change.  Also, I have to figure out what to do about one of my snow tires.  It looks like someone took a razor blade and ran it around the tire.  Not sure if this is tire failure or a cut from trying to get up the hill in the employee parking lot last year.  Need to make a decision soon... The Javelin needs serious help.  Lost my parking privelage at my brother's condo.  Transmission still dumping fluid like any good Torque Command 727A should.  If I only had the money to make the thing mint... (sigh)... Todd's rebuilt 360 has FINALLY been sorted out and now it is due to rain a while, so he's itching to break it in.  Oh hey, the '05 Mustang looks VERY interesting.  Appears they are due at dealers around the first of November.  Sure would like to see one and decide if a purchase is possible in the future.  

11/14/04 UPDATE:   New snow tire purchased and mounted.  Only thing is, yesterday we got about 3-4" of snow!  But the tires are not on the car!  Also, took Vic to the dealer to get the air bag light attended to.  It was something called a clock spring, and it also made the horn stop working.  Had the e-brake adjusted as well.  Car seems happy now.  New Mustang GT is very tempting.  Javelin is parked in the backyard for the winter.  Todd inherited a 1960 Humber Super Snipe and must sell it soon.  Anyone want an old English car??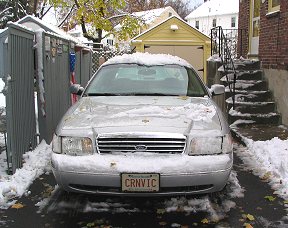 11/18/04 UPDATE:   Got a very interesting car in at work today.  A 2005 Porsche Carrera GT.  This is a limited production car made mostly of carbon fiber.  There is a V10 engine out back, F1-style suspension, huge rear wheels and tires, carbon fiber brakes, etc etc... all for about $440,000 or so.  We were only allocated one of these cars, and everyone wanted their picture taken with it.  I was no acception, though I hate having my picture taken.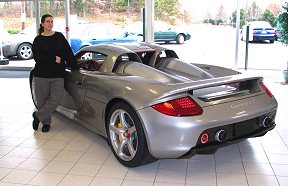 Carrera GT and me.  Click for larger pic

12/24/04 UPDATE:   Merry Christmas folks!  I know it is not "PC" to say that, but you know what?  We as Americans have the Freedom of Religion, not freedom FROM religion.  Christmas has non-religous rituals like the trees, lights, and presents.  Anyone can celebrate with those, even Jewish people!  But this is also the birthday of Jesus, and no one can prevent people from celebrating that.  So I say MERRY CHRISTMAS and will continue to do so despite what the PC liberals say.  So many good, wholesome things have been taken away from society, and I am not allowing Christmas to be taken away either.

Now that I have vented, HI!  My ABS light is on in the Vic.  Must try to go outside today and see what may be the cause.  A fuse?  Dunno... can't afford any huge repair... All four snow tires are on, also, but seem to be at a wear point where they drone alot, and don't handle as well as years past.

The pic to the right shows my car after driving past a truck that blew its engine on the highway.  The whole car got covered in oil!  I had to drive about 10 miles on the highway at night with a smeared windshield.  NOT fun... Once I got home, Todd and I doused Vic in oil-eater.  The next day I had to wax the whole car, and to this day, oil residue STILL drips out of moldings after it rains!!  I hope the winter road salt will help remove it.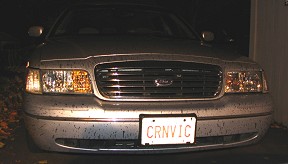 Test drove a 2005 V6 Mustang a few days ago.  There was a lot of slush and snow on the roads, though it was sunny, so I didn't get to really test how the car drove.  But one thing's for sure, the traction control setup, which I at first didn't know the car had, works FAR better than what's on my Vic.  Vic will stall if the wheels slip too much.  This Mustang keeps plowing.  I have read that this system knows if the road is wet or dry, and I believe it.  The engine never really got warm enough to really tell me how it runs, but the V6 seems peppy (210HP), though the 5 speed automatic transmission is totally foreign to me.  The ride was very nice indeed, though the windshield pillars were blocking my view of the road a bit.

All in all, I think I have been smitten by this new poney car.  I like the looks, and the GT has 300HP!!  I have been building Mustangs on Ford's website, figuring out possible payments on the computers at work, etc.  While I would prefer to have a GT, the V6 is more affordable.  I don't know if I could live with a V6 (yuck), but that version still looks sharp, and I love the Halibrand style alloys with spinners they come with!

Is there a new car in my future?  Hmmm....


What's Up With Vic?  2004

(Newest LAST)