1/5/03 UPDATE: It's 2003, and I've been a little behind with my regular updates.  I seem to be experiencing a lack of Crown Vic enthusiasm.  It may be caused in part by the crappy weather we are having, or perhaps my diminishing involvment in the local Vic community.  I think one of the main reasons is that I'm in my annual winter slump.  I'm not motivated to do much of anything...

...well, I have been trying to get stuff done on the Javelin.  I found an engine, radiator, transmission, and carb.  I hope it's worth it when it's all put together and running!  I can't wait to drive it to a Vic meet...

There's a chance that there will be another Vic in our family soon.  My dad needs to replace his worn out '86 Chevy Caprice Classic.  Mystery Mechanic is willing to sell him his spare '95 P71.  If it happens, it means our driveway will have totally abandoned Chevrolet.  But my brother and sister still have Chevys..... for now.....

Massachusetts has been overly white lately.  We have had more snow since Halloween than we did all last year!!  So far, I have not had any problems driving in it, unless you count the two times I got stuck trying to park at work.  I did manage to park, but it wasn't easy... I have been driving with the traction control off, and I find it's easier to navigate that way.  It's also better not to have to worry about it the car will stall out if it looses too much grip.  That's a safety hazard that I wish I could get fixed.  Anyhoo, the Ultra Grips seem to be very nice snow tires, though I think part of their usefullness is due to the shear weight of the car.  I was behind a minivan the other day (RWD!) and he was having a hard time when I wasn't at all.  Could have been his tires, but could also have been the lack of weight in the back...  Then again, maybe not!  All I know is, we must be in for a long, nasty winter if it is always precipitating outside.  I don't worry about my wheels as much this year, as my good set is all happy and dry in the garage  :-)

1/18/03 UPDATE: One word: FLU.  Uuuuugh..................

1/26/03 UPDATE:
The flu is gone, and it finally got above freezing in eastern MA for a second today.  I just spent an hour or so trying to clean up my new (old) AMC 401 engine.  All I can smell is Simple Green and I stained my good jeans. I'm new at this, and going to HAVE to figure out a better system for getting rid of the goo and mess.
On a cleaner note, the last Chevy is out of our driveway.  Yup, Dad's '86 Caprice is gone.  He is the happy new owner of Mystery Mechanic's '95 P71.  I am a little jealous.  He has a P71 and I don't, but I like mine better.  It seems so funny to see the car in the driveway, though.  Now we need to get my brother and sister to make the switch to FoMoCo.  They are still Chevy drivers. 

2/15/03 UPDATE:
The flu went away, but now I am recovering from a head cold.  It's been so (@&%@_ freezing here in MA this winter!!  Everyone has just about had it with this winter.  Car sales are slow at work.  Cars on the road are all gray.  The price of gas is going up.  Everyone thinks duct tape will save them from a nuclear blast.  NOT a good time.  I did, though, manage to find a great online parts place that sent me a water pump, fuel pump, and gaskets for my Javelin in warp-speed.  Talk about service!!  It's interesting looking at older car parts.  So simple... yet I feel I need to learn lots more before I can actually install any of them.  Vic is messy but happy for now.  Can't wait to give it a good detail when it stops snowing...
2/18/03 UPDATE: What else: MORE SNOW.  Yesterday's snow storm set a new record in Boston: 27.5".  That's just over what we got during the Blizzard of '78.  But this snow was lighter, so the aftermath isn't quite so nasty.  But there sure was a lot to clean up out there this morning!  My boss called and said to stay home, so I spent about 3 hours helping my father shovel.  Right now, he's under the hood of the Ex-Mystery Mechanic Vic, trying to get used to a fuel injected engine.  I hope he doesn't mess with anything... Anyhoo, I had gotten Vic washed, and it still looks clean under the snow!  Too bad it won't last after tomorrow... Word is it will hit 40 by the end of the week, then rain.  With no place for all that water to go, we may still have lots of problems ahead in this area.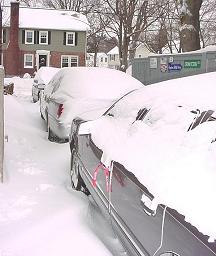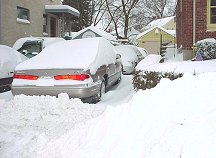 3/2/03 UPDATE: Bought a new battery for Vic last week.  The "green eye" was showing yellow in the old one, which I think was the original.  I installed it myself, and am still recovering as I had to run/walk up a bunch of hills from the parking lot at work up to the service department to get tools from a mechanic.  Having asthma and being out of shape didn't help the situation...

And speaking of health, my boyfriend Mystery Mechanic (aka:Todd) will finally be getting his kidney transplant from his father on March 4th.  I'm hoping all goes well so he will start to feel human again, and we can start having a more normal relationship.  I'm also looking foward to his helping me with the Javelin engine and all sorts of other stuff.  It will be good to have my man back in shape... I hope I'm not a total wreak at work while he's in the hospital...

3/4/03 UPDATE:  Did pretty good today while MM was on the table.  Word is so far both he and his father did very well during the procedure.  I don't expect to hear from himself personally until sometime tomorrow.  Maybe I can steal his car for the week!  I like his spotlight... I have this urge to shine it at people's houses whenever I see one!

3/19/03 UPDATE: Hit 37,000 miles during a trip to Maine the other day.  It was a therapy trip to get Todd, me, and Vic out and about.  The dash read 21mpg!!!  When I got gas the next day, it said I could get 320 miles from a tank of gas!  True?  Who knows, it just makes me feel good... Looks like we will be attending another auction next week.  MM is looking for a Vic for his parents.  I will, of course, bring my camera.  Coming up on April 6 is Vic and I's three year anniversary.  It is also the spiritual anniversary of the first incarnation of this site.  It's hard to believe it's been three years...

4/20/03 UPDATE: I'm a bad girl.  I didn't get to do my usual anniversary update.  I guess I am still in a bit of a rut... A couple of weeks ago, Vic was riding awful on the highway, almost like I had a flat, or a wheel was out of balance.  It worried me, so I mentioned it to a mechanic at work, who offered to take a look at it for me.  Turned out all four wheels were way out of balance!  Why, I'm not sure.  He said perhaps it had to do wih the way the snow tires were wearing.  One thing I noticed is the old scraped rim is now bent on the inner side.  I must have hit a good pothole, which is VERY believable with my commute.  All I know is, the car drove much better the next day, thankfully.  He said that I should have my brakes done before the summer, and showed me how worn the pads are.  I think I'll start saving up, as parts will be $$ even if Todd gets parts for me and does the work.  I'll tell you all about it if and when we do the job.

Last week, I finally was allowed to change my own oil!  Every time I needed it done and didn't have my mechanic do it, someone would do it for me, though I wanted to learn myself.  Well, finally, I got the chance because Mystery Mechanic still has to be carefull after his surgery.  He did, though, have to loosen the oil plug because my mechanic had tightened it way too much last time.  Otherwise, I did it all myself, and made the least mess I have seen in a do-it-yourself oil change.  Maybe because I am a woman......  ;-)  

Next, the 401.  I am STILL waiting to start real work on the engine.  Todd says in the next few weeks we will get going on it... if it actually warms up around here!  I am getting reeeeeal antsy now that I see people starting to drive around in their cool old cars.  I want to drive that Javelin in the worst way... which is probably how I'll be driving it for a while, as it will need some real work and tuning before it rides properly!!   But still, I can't wait.............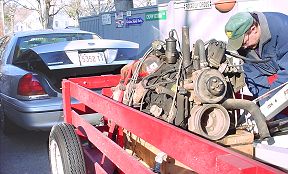 My AMC 401 finally arrives!

5/25/03 UPDATE: It's finally spring!  How do I know?  Because it's time to post the Mulch Trunk shot for 2003!  Managed to haul another large load of mulch and topsoil a few weeks back.  I had to stuff some live plants in there as well!  Even seatbelted in a rose plant on the back seat!  Yup, spring is here!!

Last week Mystery Mechanic and I picked up a load of AMC parts with his trailer.  I got a front fender and transmission for cheap money, and the man GAVE me two starters, two alternators, 2 PCV valves, two valve covers, and three model kits!  Todd got a gas tank.  All in all a VERY nice haul! 

Yesterday, we ended up driving out to the Berkshires, over the line into Vermont.  It was quite the place, very woodsy, mountainy, and foggy.  We were essentially driving in the clouds. Thankfully he took me back down to the level of a river I didn't ask the name of.  Todd showed me the neat old train tunnel in the mountains, the Hoosac Tunnel, built in 1877.  He commented that he'd never actually gotten to see a train go in or out of the tunnel.  We waited for one, but no dice. So off we went zipping up and down the windy roads.  We saw a bear fishing, and then a freight train across the river, heading for the tunnel!  What followed was a frenzied ride towards the tunnel to see the train, but we outdrive it by about 20 minutes, and had to stop and wait for it to catch up.  Then back we went to find it again, then back we went towards the tunnel, this time stuck behind a slow pickup truck.  FInally we ended up neck and neck with the train, but got slowed up behind two vans, one hauling rafts.  Finally we pulled up to the track crossing and waited for the choo.  The engines could be heard working up the grade.  When it approached the crossing, its front lights proved too bright for a good photo, but I got somenice ones as it approached, passed, and then entered the tunnel.  Todd said there were easily over 100 cars, and it was one of the coolest train things he'd ever seen!  It was rather nifty, but I also liked the old bridge we found.  Took some nice shots on it.  Todd had more fun driving NEXT to the tracks!  Good thing the train didn't show up then!  Got his Vic rather dirty with that stunt...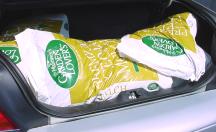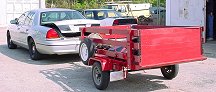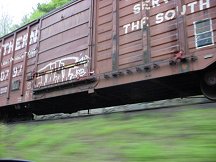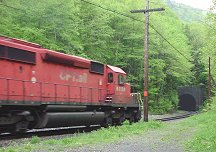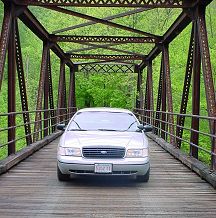 A nice road trip.  Made me forget that my Vic needs brakes and is riding funny.  It almost feels like the rear end is moving sideways.  I had a mechanic at work check the alignment, but it was almost perfect, nothing to write home about.  It all started after the out-of-balance situation occured.  The snow tires are off and it didn't go away.  Must have it looked at...

5/30/03 UPDATE: Vic has a date with the dealer on June 4th to see what's up with the suspension.  Not riding like it should.  Stay tuned...

6/7/03 UPDATE:  OK folks, here's the skinny: Vic wasn't handling properly due to the fact I had NO REAR BRAKES!!  Yup... upon inspection at Bonnell Ford, it was found that my rear brakes were original, and the emergency brake shoes had disinagrated, the pads were almost gone, and the rotors had been damaged, too far gone to be resurfaced or salvaged.   Soooo, they installed my already-bought front brake parts, and did the rears.  Thing is, I couldn't tell that I needed brakes!  The only clue was the stuff I saw falling out from behind the rear driver side disc when the tires went out of balance in April.  Goes to show how well the fronts alone can stop such a large car.  One thing's for sure, I didn't need to spend so much money on Vic.  My man at Bonnell did me a great favor by letting me have his new lower rotor pricing a day early, but the money I spent was being saved for the exhaust system I will need to get installed on the Javelin to get it on the road.   Oh well... At least I will most likely never need brakes again... unless I keep the car a VERY long time!!

9/28/03 UPDATE:  It's been a while, folks, but then again there hasn't been much to report.  The Javelin took up most of my summer, and is running.  I am now in the "where do I put it?" stage.  It is one of the main reasons I have put off getting a second car.  Looks like it may end up in our back yard, which I am not happy with... As for Vic, it's happy that the driveway has been repaved.  It's also happy that it will never have to park in the backyard... I had to have the emergency brake attended to again (still sticking), and now I seem to have a bit of a wobble starting.  Mystery Mechanic and I spent the weekend driving around southern Maine and tried addind some air to the tires to see if it went away.  I may need it looked into... The trip did get me 21mpg, though, up from the usual 15-16mpg.  Must get an oil change soon, and before we know it, it'll be snow tire season!!  Noooooooo!!!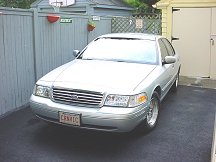 10/27/03 UPDATE:  Not much to report, other than Vic got it's overdue oil change this weekend.  Seems Mystery Mechanic now expects me to do it mostly myself for now on!  I guess it's good for me... Next will be putting on snow tires. Hard to believe it's time for THAT again!! The Javelin is now parked in the backyard under a cover, and has already seen some snow flurries!    Most of the leaves in our area are still on the trees, though, and it looks to be a mild Halloween... 


What's Up With Vic?  2003

(Newest LAST)