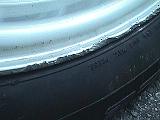 LATE BREAKING NEWS!!!

Jonelle Scrapes Rim!!!!

Belmont - Today at 8:35AM, local Crown Vic owner Jonelle D. scraped her rear passenger side 16" alloy rim on a curb on her way to work.  Police were dispatched to the scene to calm the fuming female.  Her statement was that the jerks in town park like morons, and that you have to hug the curb to avoid hitting cars coming towards you.  There is no word as to J.D.'s plane to sue the town.  Word is she has made calls to wheel repair shops for estimates.  Watch this space for future developments!

6/4/00 UPDATE:
Well, I went to a wheel repair shop, and they said that I could get another rim like mine refinished for about $190, less if they accept my rim as a suitable "core".  Then I went to a Ford dealer, and with a dealer discount, we're looking at about $310, which is more than I want to pay.  Anyone have a suggestion? EMAIL me!

6/20/00 UPDATE: Ok, I have sort of gotten used to my scraped rim.  I guess it isn't TOO bad.  Instead, I spent my money on a new stereo.  Actually, it's my Sony deck I had in the Marquis, and four new 3-way speakers.  Sounds much better!  CD changer to come?  Maybe in a year or so.  Also, I found a nifty set of Ford valve caps!  I keep getting comments on the car, the latest being from one of the guys at the stereo place.  When he found out how much I paid, I thought he was going to ask me if he could buy it from me!  Maybe I DID get a deal after all...

7/9/00 UPDATE: Well, there's a strange creak coming from the front end now.  All the folks at the Blue Oval Boards seem to think it's the front bushings.  I hope to get this little problem fixed soon, as little noises drive me nuts!  Stereo is doing well so far.  Wheel is still scraped.  Nothing else major to report...

8/18/00 UPDATE:  I did it.  I made an appointment at a local Ford dealer to take a look at my creaky suspension.  I have never taken a car to a dealer, so I'm a bit nervous about my baby being left with strangers.  They better not rip apart anything they can't fix!  Got a nail in one of the Goodyears last week.  And I recently aquired a Crown Vic street sign through EBAY.  It goes well with Ma's Town Car sign!  Click the pic to see it!


9/8/00 UPDATE:  Well, the dealer never did figure out what the creak came from, but replaced the pitman arm under warranty anyway.  They never even got the car to make the noise.  But they said everything looked fine in the front end.  They greased up some stuff, and that was that.  Some dope hit something with my front bumper, though, and after a bad day it was NOT a thing I wanted to put up with.  The next day, the scuff seemed 10 times smaller, and I think I can live with it.  Today, they replaced the typical foggy headlight covers with new ones.  Now the front of the car SPARKLES!  All I need is a new grill and the front end will look like new!  But I like my grill, with the black and chome slats and not all chrome like the newer cars.  So for now, I am happy.  Time to start thinking about snow tires.  I don't want to, but this is New England...

?????DO YOU HAVE A CREAKY VIC?????

Well folks, I MAY have a solution for you!  If your Vic has a metal on metal type creaking noise that seems to come from the front end, and gets worse the warmer the body gets, and the worse the road, then you may have the same annoying noise I had.  The solution?  VERY simple.... Mr. John Murray gave me a tip: Grease up the hood latch.  On his car, the metal latch parts rub and make a noise.  SO, I got myself a can of white grease and sprayed it all over the latch parts.  So far, I have not heard my creaking!  I think that my problem is solved...

9/19/00 UPDATE: Well, the above miracle may not be 100% accurate, folks.  Despite covering my hood latch with grease, the creak was still audible after a long drive.  It is NOT AS LOUD, though, so I may just need a different grease.  So, more research is in order.  I realized the other day that my new jewel-like headlights were aimed 1.5 feet TOO LOW!!  I found this out while driving on rt128 in the dark.  My mechanic fixed them yesterday, so I should be all set. You'd think the dealer would have aimed them, dopes... ALSO, I read yesterday at work that Ford SHOULD be making the Marauder, most likely in 2002.  It will have a supercharged engine.  It BETTER!  Time to start saving the pennies, kiddies...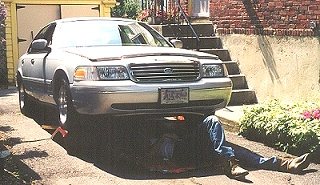 Here's a shot of my brother under the Vic when we gave it it's first oil change.  We put in 5W30 Mobil 1 synthetic, with a Mobil 1 filter.  I got my first  good look at the underside of the car, and things seem to have changed since 1988!  My brand new pitman arm was right under the filter, so I recommend if doing this on ramps, try and turn the wheels if you can to one side, to help you reach the filter better, and cover the rubber bushings with plastic.  The oil will drip all over the place!

10/24/00 UPDATE:  Hi all!  I put another scuff on a rim this week.  But it's a small one, so I didn't scream.  I have been making calls to various tire dealers and Ford service departments regarding snow tires.  First off, I am told they are now called "WINTER" tires.  Also, this trend to fitting 4 tires is confusing me.  I was convinced that it's a ploy to get people to buy more tires, but then I started to do some light research.  It seems that these new tires are made of these snazzy rubber compounds that grip so well, you need 4 to make the car handle properly.  Then I was told that's more for a FWD car.  I could get away with 2 in the rear like always, if I got a conventional snow tire.  But they don't seem to MAKE those anymore!!  THEN I was told that on my car, with ABS, I'd need 4, because the computer would be able to detect that there were mismatched tires on in a storm.  He says to chech the owner's manual, that it probably says that.  I keep forgetting to check.  Makes sence.  But I just bought 4 new tires when I got the car!  I don't want to spend MORE money, money which I was going to keep saving for the Spring for some upgrades.  But do I actually NEED snow tires on this more modern car?  Can I get away with Goodyear Eagle LS?  Who knows anymore...

ON A MORE HAPPY NOTE:  I read at work that Ford is indeed working on the MARAUDER!  Now they are saying it will have a 300HP DOHC engine, instead of SOHC, and a 5 SPEED automatic tranny!!  YIPES!!  Forget about saving pennies, kiddies.  Start saving DOLLARS!!  And buy a supply of gas now.  By the time the car comes out, you may have enough to drive around the block!!

Regarding the Mystery Creak, it seems to be gone.  I have not heard it for about a month now.  SO that's just ducky!  The car is now out of warranty, so it will probably start falling apart.  I have a VERY annoying rattle coming from under the dash now that it's getting colder here in MA.  I hope to eventually track it down... or go crazy listening to it!!  Nothing like a Ford, I am learning, if you want to make a study on strange noises...

10/31/00 UPDATE: Some jerk stole two of the Ford stem caps off my wheels today.  Very upset... VERY!!  I mean, just DO NOT touch my car if you want to live!  It's that simple!! 


On a lighter note, Ford finally updated their site, and they got rid of the old people on the Vic page.  They have some wallpaper, and photos of my car!!  Well, almost...

I picked up two very cute (sorry, guys) HO scale police Vics this weekend.  They are about 1.5 inches long, and one has amazing detail for it's size.  I should be putting a photo of them on the model page soon
. 
11/5/00 UPDATE:  Well, after getting myself all intense and confused about a simple thing like buying snow tires, I finally bit the bullet and went to a local tire store recommended to me by our parts department.  The guy showed me the Michelin Alpins he had on his Camry, and they sure were nice.  But at over $100 a tire wholesale, I realized I just cannot afford a set of 4 tip-top tires right now.  We figured that since I don't drive all that far, I can probably get away with only 2 on the rear.  So, I am now owner of 2 Akuret Grip Plus show tires, which I think are made by Cooper or one of their house companies.  I usually like to stick with an expensive  name, but I was happy with the agressive tread, and figured I'd give them a try, since it was the third time they were recommeded to me!  I'll keep the alloys on the car, too.  This will be the year to experiment.  See how the tires handle, how crazy I go trying to keep the rims clean, etc.


11/16/00 UPDATE: My new Ford valve caps came the other day.  I like these much better than my old ones.  They seem larger and the black goes better with the rubber valve stems.  Logo Caps makes real aluminum, chrome and black plastic versions of their caps, with all sorts of logos.  I'm told they also have a Ford Police logo, as some of you may have seen.  I'm actually glad my old ones were stolen, since it didn't occur to me that the metal might react to the salt and junk on winter roads.  Yup, nice caps.  I got 2 sets, in case someone else agrees...  My creak keeps sneaking back!  I can't seem to lube the right spot under the hood or something.  Not sure what's up.  It was doing so well, too!  Oh well...

11/25/00 UPDATE:  Today a little voice told me to check out the Ford dealer where I bought my car.  It was saying "maybe they have the '01 Vics in!"  So, I pulled in, and to my suprise, there were 3 brand new '01 Interceptors!  Two were for the Winchester, MA PD, in a nice medium blue, and the other was white.  They had graphics, but were still wrapped up inside, with no lightbars or interior equipment.  All had the new black honeycomb grills.  I got my little disposable camera from my car, and managed to take a few shots before the feeling of getting caught took over.  I then wandered over to the civilian Vics.  There were 3.  I didn't like any of them.  Looks like they now use thin whitewall Firestones instead of Michelins, and they look horrible, especially since they appear to be putting my lovely BBS style rims on non-H/P cars!!  There's no clock in the center woodtone trim anymore, which stinks because until I noticed, I thought maybe I could replace my dull part with the new shiny one.  No dice...  One had the black interior, but with cloth, and the seats look cheap in black.  That's all I could notice, as I was avoiding getting pulled over by a salesman....

12/10/00 UPDATE:  The Boston area got it's first real snow the other day, and the streets are covered in salt and sand.  Seems silly, since we got maybe 1/2 an inch at the most.  Anyhoo, makes me glad I have my new snow tires on!  The ride is a little more "squishy" now, and the TC seems to kick in more, but it's OK.  So far, I have not seen one Vic/Marquis/TC with 4 snow tires on.  Most have big snows on the back.  I saw 2 cruisers with huge snows on as well, which suprised me.  I can't see driving at high speed with those on! 

By accident I found a place west of Boston that sells and repairs Interceptors.  I got my trusty camera and took a few shots of the brand new PIs.  Some were sold, some were waiting for homes.  There had to have been over 50 of them there!  PI heaven!  They even had a Ford Presentation car.  Good thing they were closed, or I would have applied for a job!  Search around the site for some of the photos...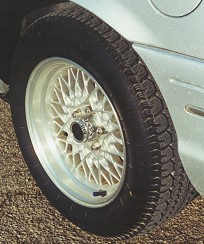 12/14/00 UPDATE:  Parts of MA got some snow early today.  Commute was a mess, I hear.  My unfortunate unemployment status means I don't have to drive in snow at this time, but I didn't want those brand new snow tires to feel left out of the fun, and I want to be ready for when I do have to drive in the snow, so I took the car out this afternoon when it stopped raining and drove it around town in the slush.  The car seemed to plow through it pretty well, though I can tell there's less ground clearance than I'm used to.  The traction control kicked in a few times, but I was suprised it didn't more often.  Stopping was ok, but then again, it wasn't freezing out there.  I took Vic to our High School parking lot to try some donuts, but there were too many cars there, and not enough snow.  I managed a 1/2 donut.  And what good is that??  So, I switched the TC back on and headed for home.  I have to get it out of my head that this newer car is less tough then my old '80s sedans.  Then again... maybe it is!!  We'll see...  I saw that the Belmont Fire Dept has 4 snow tires on it's red Vic.  Now I am curious to see what the local cruisers have. 

12/30/00 UPDATE:  Well folks, I am glad to announce that I am no longer employed at a Nissan dealer.  Nope.  I'm now at a Ferrari repair shop.  Slightly different!!  I'm not fixing cars, but I sure wish I were... Anyhoo, point is, I am commuting with Vic on the highways of MA.   I have always hated driving on highways, especially in the Boston area.  I find that Vic's tranny seems to dislike highway driving as well.  I don't know if it's the cold weather, or maybe I need a fluid change, but the thing shifts funny at times.  Could be all the speeding and braking I have to do during rush hour.  One thing's for sure, pickup and power is good.  No complaints yet.  The heater seems a bit slow when the temp is below 20 outside, and the snowtires are a little loud, but that's no big deal.  They seem to handle OK at speed, but I can't wait to put the 2 Goodyear LSs back on...  My only real winter complaint so far is that the side view mirrors on this car are awful in the cold.  They fog up, and if you try to wipe them in the cold, they fog up worse.  Anyone have this problem as well?  It's not safe trying to navigate the highway at night when you can't see anything in the mirrors!!  Oh well... Picked up a nice chrome Ford plate frame on EBAY, as well as a clear Ford Motorsport plate cover to put on in the Spring.  Watch someone steal THOSE, too!!



What's Up With Vic?  2000

(Newest LAST)